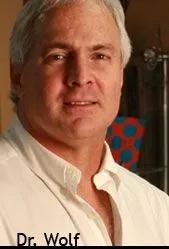 Dr. Thomas Wolf attended undergraduate school at Oklahoma State University in the '70's. He starred as an offensive lineman and received several awards for his performance. Instead of moving on to the NFL, he attended medical school at the University of Oklahoma in 1980.
After graduating medical school, he specialized in cornea and refractive surgery with more than ten years experience in Lasik surgery. He was named one of the top cornea specialists in the nation. He has recently retired from surgery, but still provides excellent primary vision care. He has worked on several research studies over the years as principal and co-investigator and has been published in numerous journals during his career. Dr. Wolf has spoken at over 50 lectures across the country.
In 1985, Dr. Wolf opened his first practice before joining the team at Dean A. McGee Eye Institute in 1990. In 2001, he opened Oklahoma Eye Care Associates in Midwest City. Later the same year he added his Edmond location. In 2003, Dr. Wolf's practice expanded into South Oklahoma City. Since this expansion, he has also added a location in Mustang. Needless to say, the Metro is covered! Dr. Wolf also volunteers his services at City Rescue Mission, located in downtown Oklahoma City, where he sees the organizations residents and provides prescription glasses at no cost.
Dr. Wolf and his medical team are pleased to provide primary vision care to the greater Oklahoma City Metro area. Services include routine exams for glasses and contact lenses, primary care, specialty care, optometric dispensary, retina, cornea, glaucoma care, and eye infections, as well as urgent care.
Dr. Wolf and his staff are committed to providing friendly, professional service to their patients, new or established.